Baccarat 2015-09-16 15:23:34
How to play Baccarat
Baccarat is a French variation of the Italian game baccarà, introduced into France about 1490. Today, Baccarat is one of the most popular casino gambling game played around the world. Baccarat is a comparing card game played between two hands, the "Player" and the "Banker".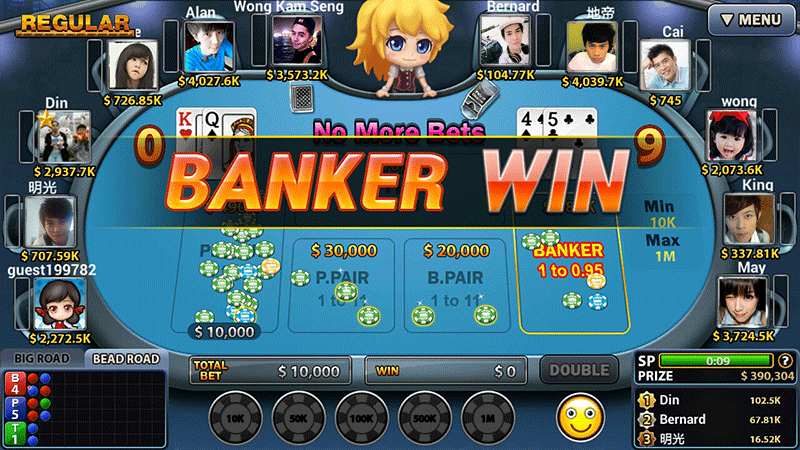 Betting
Players can bet on three possible outcomes: Player win, Banker win, and tie. Note that "Banker" does not refer to the house. Participants in the game have the option to bet on either the player or bankers hand. Players may also choose to bet on "Pair" such as two cards of "3" or "Q".
Points calculation
Aces are worth 1 point, 10s and J,Q,K are worth zero, Cards 2~9 are worth their face value. When the sum of points of all the cards totaled over nine, only the single digit of total number of points will be counted. Thus, the points of a "8" and a "9" are calculated as : 7 (8 + 9 = 17). Therefore the maximum possible points are 9 (such as a "4" and a "5" card combination adds to the point of 9 : 4 + 5 = 9), and the least points are 0.
Know how cards are dealt
Two cards are dealt to both the Player and the Banker. The first two cards will determine if "Pair" present, and then the game follows the common rule of baccarat. The Player hand is completed first. A total of 8 or 9 for the Player will get no additional cards. The Player stands on totals of 6 or 7. On any other total, 0-5, the Player draws a third card. If the Player stands pat (or draws no new cards), the Banker draws with a hand total of 0-5 and stays pat with a hand total of 6 or 7. All other hands are dependent on the third card the Player draws. In order to win, player's bet must be on the hand that totals closer to nine.
Payout
If player bets on "tie" and win, player wins 8 to 1 of bet. By winning the banker's bet or player's bet, player gets same amount as the bet. If player win the banker's bet, player gets the amount less 5% commission.
Find out more about us
#Gaming #game #onlinegame #slots #onlineslots #FHC #fullhousecasino #poker #Androidgame #iOSgame #jackot #BIGWIN #vegas #bingo