Black Jack 2015-09-16 15:14:06
How to play Black Jack
Some players call the game black jack and some call it twenty-one. No matter what you call it, the object of the game is: beat the dealer (while having a total points of 21 or less)! Black jack is played with 6 card decks, each card has value appointed as below: 2 to 10: worth their face value, J,Q,K : worth 10 points, A: worth 1 or 11 points. Black Jack, a combination of a "A" and a "J,Q,K" card is the best result for player. Player aim at getting a Black Jack or any points close to 21 in order to beat the dealer, at the same time avoiding getting points greater than 21, i.e. busted. If player and dealer get the same points, "Push" happen, no one wins or loses.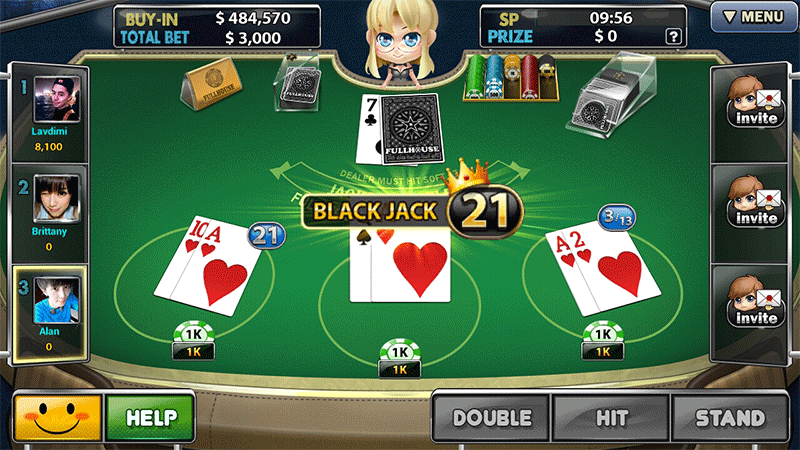 Basic Rule
Hit: Take anohter card from dealer
Stand: Take no more cards. End the turn
Double Down: The player is allowed to increase the inital bet by up to 100% in exchange for commiting to stand after receiving exactly one more card
Split: If you first two cards have the same value, you can slpit them into two hands. Dealer draws an additional card on each, player bets on those cards. Black jacks after a split are counted as non-black jack and Hitting is not allowed after splitting Aces.
Insurance: You may take "Insurance" against dealer's Black Jack if dealer's faceup card is an Ace. Insurance, which may be taken for half the original bet, pays x2 if the dealer has Black Jack. If It's the other way, you will lose your insurance bet.
Even money: Dealer will ask you " Even money" if her first card is an Ace and you have a Black Jack. If the dealer does have Black Jack, you get a payoff equal to your bet. Even money will guarantee x 1 of your betting.
Payout: Black Jack pays x 1.5 of your betting and winning equals to or lower than 21 pays x1. Black Jack is stronger even than the dealer goes on to draw 21 in three or more cards.
Find out more about us
#Gaming #game #onlinegame #slots #onlineslots #FHC #fullhousecasino #poker #Androidgame #iOSgame #jackot #BIGWIN #vegas #bingo